As a progressive and forward-thinking company we place integrity and honesty at the centre of everything and as an equal opportunities employer, we're passionate about rewarding equal work with equal pay.
Diversity and Inclusion.
We champion and promote diversity and inclusion in the workplace. By recognising the unique contributions our people make, we are able to grow and harvest the future of the maritime industry.
Peel Ports is actively involved with the Department of Transport and Maritime UK on the 'Women in Maritime Charter' and signed the 'Women in Maritime Pledge' in 2018. We have continued to encourage more women to pursue careers in Maritime and this also includes enhanced maternity provision for our employees.
Armed Forces Covenant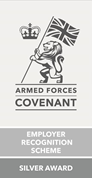 Peel Ports has pledged its support to the Armed Forces Community and as part of the ongoing covenant we endeavour to provide opportunities of employment for members of the Armed Forces community and support employees who are members of the Reserve Forces.
Culture.
Our core values underpin our behaviours and are expected to be upheld by all employees in every interaction with colleagues and customers. This gives rise to a thriving, positive and successful working environment.
We operate a one-team philosophy across our business which treats everyone equally and encourages continuous development and improvement.
It's important to us that we continue to adapt and change whilst we work towards our ambitious growth plans and so it is key that we provide our people with training to enable them to thrive and be successful. From day one, our people are provided with a comprehensive induction that delivers training and guidance to make settling in as seamless and as safe as possible.
highly skilled & trained employees
apprenticeships offered on average supporting core skill investment
training courses provided yearly to enhance skills and progression