Today, we celebrate Reserves Day. A day in which the country shines a spotlight on and gives thanks to the Reservists within our Armed Forces.
Reservists are those who give up their spare time to serve in the Reserve Forces, balancing their civilian life with a military career to ensure that should their country require them, they would be ready to serve as part of the military.
The Reserve Forces make up approximately one sixth of our Armed Forces personnel and as such are integral to protecting the nation's security at home and overseas, particularly providing capability in specialist areas such as medical and cyber.
To help mark this important day, we spoke to Adam Gorsuch, an Armed Forces Reservist working as a Police Constable for the Port Police at the Port of Liverpool.
"Originally, I joined the Army straight from school but quickly found myself not enjoying the experience and left. I always felt in the back of my mind that I should have stuck with it.
In 2017, after beginning a career in the Police Force, I decided to give it another go and join the Army Reservists. Being a reservist was a great fit alongside my police work and as a result - I was recruited into the Royal Military Police!"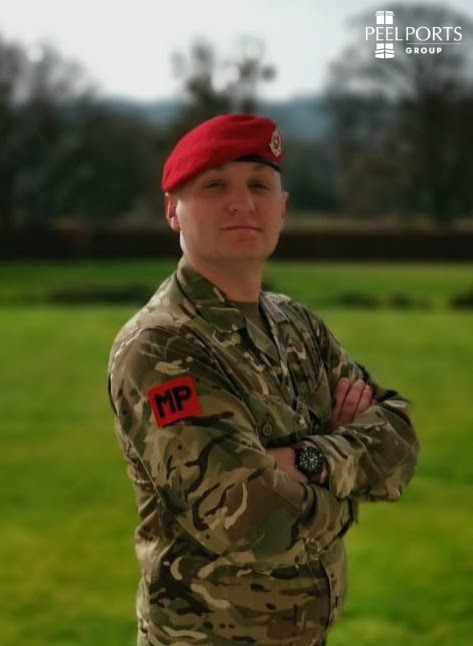 Adam has had the opportunity to undergo a variety of training courses as a reservist and gained qualifications that will help improve his civilian career.
"My experience with the Army reserve has been great. I get paid to do something I enjoy and have even managed to secure some civilian qualifications in Leadership and Management, Coaching and Mentoring, Education and Assessing. I have had the opportunity to support the regular army on a number of occasions and now due to my role with the Ports Police and RMP reserve I am involved in the assessing of military police apprenticeships"
"Currently, I am posted to the Army's Initial Training Group as a Section Commander, based at Altcar just up the beach from the port. My role is to train new recruits of any regiment or corp who join the reserves as soldiers. I am a Skill at Arms Instructor and one of the few reserve Advanced Drill Instructors."
"This role has given me the opportunity to hone my skills as a trainer and manager which are both skills I hope to use within the Port Police one day."
Adam is a big proponent of the Reserve Force and would encourage anyone else with an interest to consider registering.
The reserves are a great way of doing something a bit different, earning money and staying social. I have been very fortunate to gain so many qualifications from the Army Reserve, it shows that The Armed Forces really do invest in their personnel.