The Port of Greenock welcomes its largest ever container vessel
Scotland's deepest container terminal has welcomed the largest container vessel ever to berth at the port.
The Port of Greenock hosted the 300m long MSC Magnum VII, which has a capacity of 6,750 TEUs (twenty foot equivalent units), on Saturday morning (7 October.)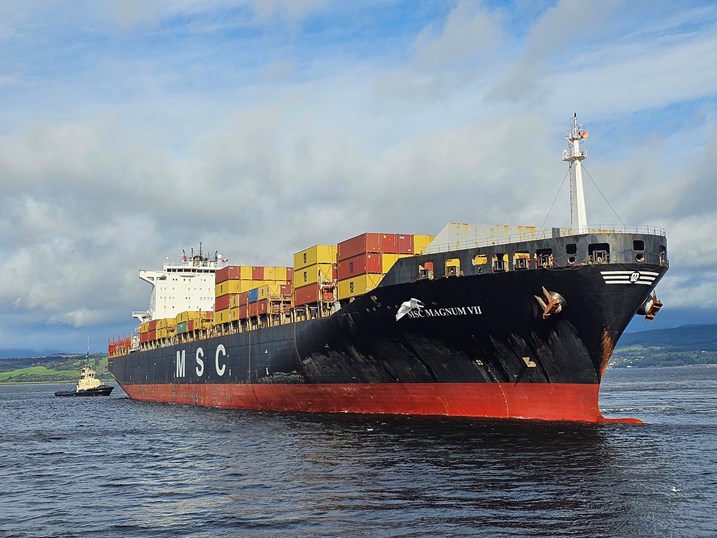 The 75,000-tonne container vessel arrived via Peel Ports Clydeport's sister facility at the Port of Liverpool, before departing for Bristol the following day.
The stopover saw the Clydeport team load TEUs of spirits, which were destined for Le Harve in France.
Jim McSporran, Port Director, Peel Ports Clydeport said: "Containers are a big part of our offering at The Port of Greenock, so it was really special to welcome such an impressive container vessel to our port for the first time.
"It's another proud milestone for everyone at the port, and reinforces the benefits of our central location, which makes us such a popular choice for customers looking to import and export their products into the UK and across Europe.
"It marks a very exciting phase for The Port of Greenock, with new ship-to-shore cranes due to arrive at the port in the coming months, and a new cruise visitor centre having opened at our facility earlier this summer."
The MSC Magnum VII tops the 267-metre MSC Pohorje, which was previously the port's largest ever container vessel when it arrived in 2017.
Last year, Peel Ports Clydeport announced it had purchased new £17m ship-to-shore cranes in the largest single investment made at the container terminal since it opened in 1969. Once installed the 39.2metres tall cranes will boost productivity and efficiency at the port.
A new £20m cruise ship visitor centre also opened at the terminal earlier this year as the port operator welcomed a record 89 cruise liners visiting across the year.
Located on the Firth of Clyde, The Port of Greenock has been at the heart of Scotland's shipping industry since 1876.