Peel Ports Group recognises the importance of continued investment in talent development and increasing skills and capability.
In 2022, over 4,000 courses were undertaken across the business with 47,000 hours invested into our people, 10% up on the previous year. As part of this training, 31 team members embarked upon apprenticeship learning opportunities in finance, IT, engineering and procurement. In 2023 and beyond, we aim to continue this journey.
This week, to recognise the importance of apprenticeship development programmes, we are proud to participate in the 16th annual weeklong celebration of National Apprenticeship Week 2023, running across 6th – 12th February.
The purpose of National Apprenticeship Week is for businesses across the UK to shine a light on the positive impact that apprenticeships can make at an individual, business and wider community level.
The theme for National Apprenticeship Week this year is 'skills for life' and across the week we will share success stories from within our business from our apprenticeship talent, past and current and our future plans surrounding investment in apprenticeships and lifelong learning.
At the start of this important week, we are pleased to announce and share that we are now a member of The 5% Club.  The 5% club is a committed group of employer members that exists with the purpose to share prosperity by increasing the number, quality and range of earn & learn opportunities across the UK.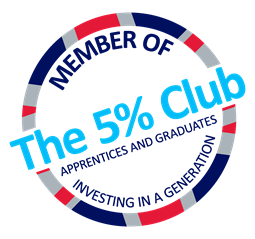 By joining The 5% Club, we aspire to achieve 5% of our workforce in earn and learn positions (including apprentices, sponsored students and graduates on formalised training schemes) within five years of joining the club.
This further underpins our commitment to developing our people, generating skills for the future and investing in talent throughout our organisation but also within the local communities in which we serve. All working towards the objectives agreed to deliver our ESG programme and Enable The Future campaign.
To learn more about the 5% club, please visit: https://www.5percentclub.org.uk/